Cellar Door
This is a structure .. Oh is it a structure!!
We have a boutique viticultural operation, producing about 10,000 bottles of our four varieties annually. The original intent was to sell our labour of love to family, friends, restaurants and bottle shops. On line sales also featured in our machinations.
Reality bit. It was harder than we thought. This is a tight industry and minions like us can struggle. It became obvious we needed an alternate sales route.
We are on an island in a lake
Our geographic location leant itself to the creation of a cellar door. We are on an island in a Lake. We are close to Brisbane, Beaudesert and Boonah. Day trippers can get to us easily within an hour. That is much more attractive that a six hour round journey to the Granite Belt.
The concept started as a tasting room and little more. We engaged Con Zahos, of LoucasZahos Architects, for assistance. We'd worked with Con before and were enamoured with his designs, materials sense, intricacies and artistry.
Well, did it evolve. The brief was to be startling, new, modern and edgy. Similarly, it had to complement the history of The Overflow 1895. It had to sit comfortably with the post and rail fences, the grids, the barbed wire and the cattle loading ramps.
Con and his fantastic team have created a remarkable structure. Steel, aluminium, glass, timber and off-form concrete blend creatively with the terroir. Nestled within the gums and absolute lakeside, the expansive deck has magnificent views to the north and the east.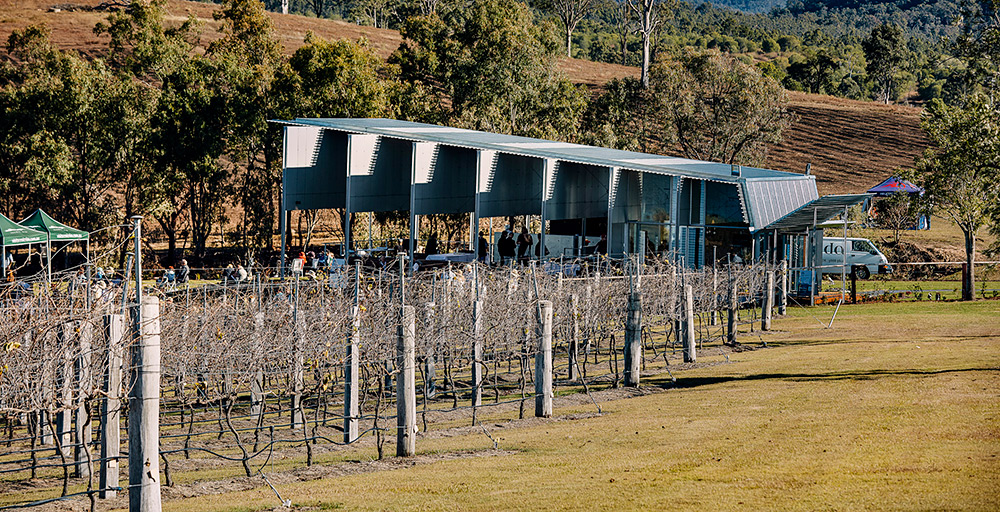 The roof line extends up and out to create an amphitheatre for visual, auditory and gustatory pleasures. Masculine vertical trusses accentuate the vineyard rows. Minimalist, sleek steel columns provide a feminine grace whilst maximising the vistas. Colours and textures have been sensitively selected to enhance the extraordinary bush setting.
This is a special building. We invite you to visit, to gaze, to relax and to enjoy. We want to share it with you.